4Paradigm AutoML is selected into Gartner Top Ten Strategic Technology Trend for 2020 Report
2020.03.26
Gartner's "Top Ten Strategic Technology Trends" are known as "technical vanes", and each year it summarizes strategic technologies that have huge disruptive potential. These strategic technologies are about to enter mature commercial stage with expanding range of influence and usage. They will grow rapidly, and reach a tipping point in the next five years. Gartner advises companies to focus on these technology trends in order to deal with their significant impact on business strategies and make adjustments accordingly.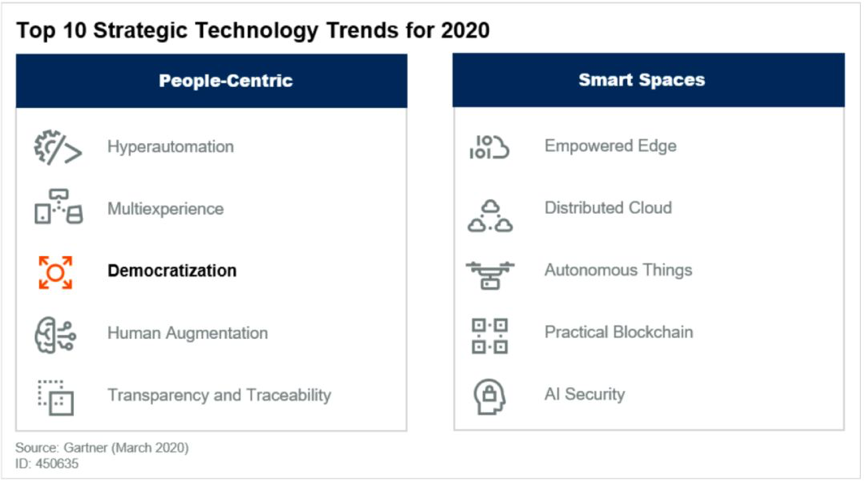 Gartner Top Ten Strategic Technology Trends for 2020
AI democratization among them
Among the Top Ten strategic technology trends for 2020, "AI democratization" has been given the mission of "fundamentally simplifying the experience without extensive and expensive training" to ensure that users have wider access to technical expertise (e.g. machine learning, application development) or business expertise (e.g. sales process and economic analysis) to achieve the goal of "Al for everyone".
Gartner specifically emphasized the key role of AutoML for "AI democratization" in the special report. Gartner found that the rapid development of AI has spread to all types of enterprises and all regions, and companies have not only benefited from a single, large-scale AI solutions, but also from hundreds of small and medium-sized deployments. With the large-scale application of AI in enterprises, its deployment challenges have become increasingly clear, according to Gartner survey results, the scarcity of talent is the biggest challenge for large enterprises and organizations in building and implementing AI applications.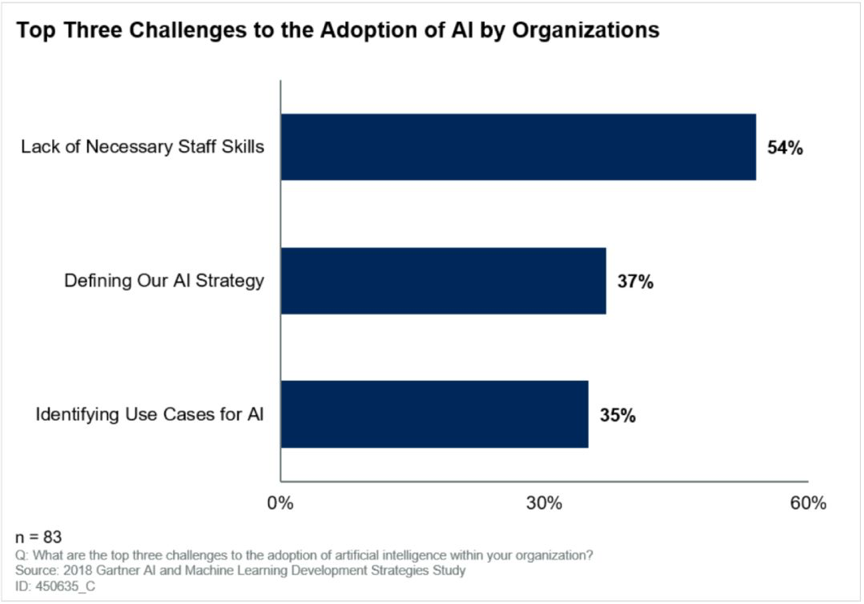 Three Challenges of Applying AI in Enterprises (Source: Gartner Report)
The "AI democratization" with AutoML technology as the core can reduce the threshold and improve efficiency, thereby solving the problem of the inability to normally carry out machine learning projects and applications caused by the shortage of professionals, and accelerate the scale-up application for enterprises. In terms of lowering the threshold, "AI democratization" transfers the ability of enterprises to build AI solutions from data scientists to business personnel—more non-AI technical personnel can master the development of AI solutions through cloud-deployed or locally-deployed AI platforms. The ability of the solution: in terms of improving efficiency, "AI democratization" enables data scientists to focus on exploring more application cases using artificial intelligence. Gartner drew special attention to 4Paradigm AutoML technology in the report, and cited 4Paradigm AutoML concept and technical logic to elaborate (as shown below). In the past, machine learning processes were mainly performed by AI technical experts, and it usually required several parameter adjustment iterations to make the process efficient. The 4Paradigm AutoML is to automate the machine learning process, improve the building of machine learning applications, reduce dependence on expertise, and help experts and ordinary business personnel improve learning ability and development performance. It works as an enhanced solution.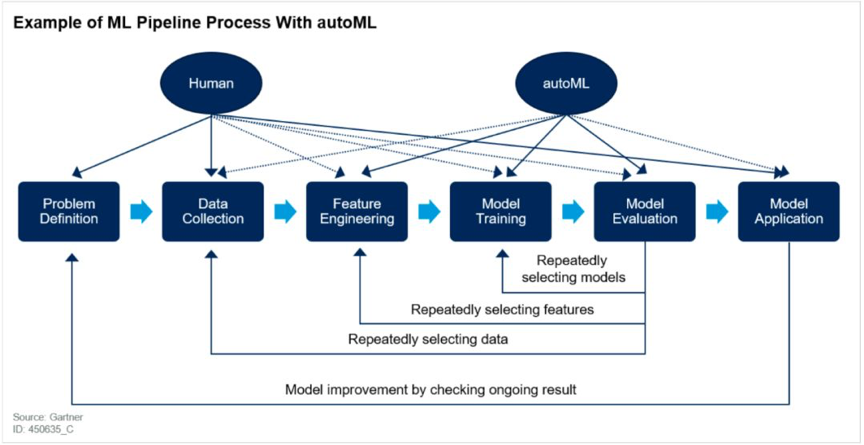 Example of an automated machine learning process (Source: Gartner report)

Applications of automated machine learning
Gartner highlighted two representative cases from 4paradigm and Google in the report, clarifying that AutoML is already helping expert and non-technical business users to improve the performance of machine learning applications. More and more enterprises are deploying through AutoML AI applications and generates business value.
Chevron's seismic imaging and processing team implemented an alpha version of Google's AutoML Vision image analysis tool to search internal documents to evolve new opportunities for oil drilling.
Changchun Obstetrics Gynecology Hospital to create a prediction model of neonatal weight and premature rupture of membranes. It has enabled them to prove the strong correlation between barometric pressure and the premature rupture of membranes.
By 2024, 75% of large enterprises will be using at least four low-code development tools for both IT application development and citizen development initiatives(development and business personnel without AI expertise). By 2025, a scarcity of data scientists will no longer hinder the adoption of digitalization and machine learning in organizations.
Under the "AI democratization" technology trend, Gartner recommends that relevant teams use processes and tools to take on more artificial intelligence work as soon as possible. Based on a detailed survey of platform tools, Gartner recommended mainstream automatic machine learning vendors in the report. 4Paradigm was selected as the representative manufacturer of the automatic machine learning platform, together with Google (the representative manufacturer of public cloud platforms with machine learning functions and services), H2O.ai (the representative manufacturer of open source artificial intelligence platforms), and DataRobot. (Machine learning platform representative manufacturers) and other overseas technology companies.